Wedding Flowers
You might prefer flowers in your hair. When we began about 20 years ago, we learned to work with fresh flowers but decided eventually to change to the finest quality silk ones instead. These look so realistic and they, of course, don't wilt by the end of the day! Once again we have so many more examples for you to see. These next two photos show – on the left - separate tiny flowers all placed together. Great for a chignon or even for shortish hair.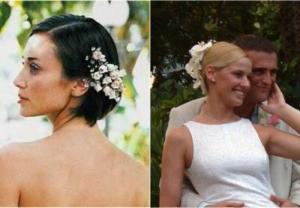 Orchids look beautiful too as in this gorgeous bride's hair on the right. All made of silk and all carefully placed on a comb. She had some added crystals for extra sparkle. Stunning to have as your wedding flowers, plus they won't wilt! We even make flowers that have gently droplets on them making them look very realistic.

Note the different necklines and different wedding hairstyles. We believe these things matter very much indeed.

We also try very hard to make sure your hair comb, wedding hair accessory, tiara or headdress also enhances your face shape so that everything seems to look and feel just right. We can give you a look of understated elegance or Drop Dead Gorgeous, art deco or simply natural and beautiful!

You will feel like the Star of the Show and quite right too!